This Geeky Tea shop owner turned fandom into a career
Nestled in the heart of Burbank, CA on Main Street is a cozy tea room that might just be the coolest hangout we've ever discovered. The owners created the business to be devoted to three of their passions: tea, cats (there are several rescue cats roaming around the shop) and fandom. From the full-size TARDIS replica out front, to the back room packed with tabletop games free to play, in every sense, Geeky Teas is its own entity, and is completely unlike any place you've ever been.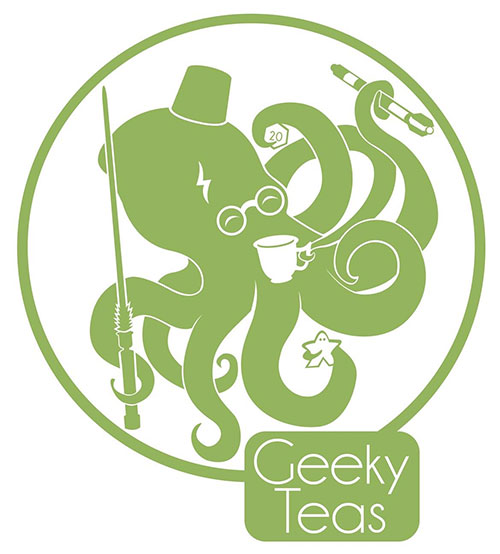 Quirky gifts and odds and ends with fandom themes (think: a TARDIS teapot) are available for purchase around the shop, but the real attraction is the tea itself. Each brew is specially crafted to pair specifically with their customers' favorite fandom. My choice? The Harry Potter-inspired "Weasley Tea": a delicious blend of Yerba mate, orange peels, lemon, and marigold.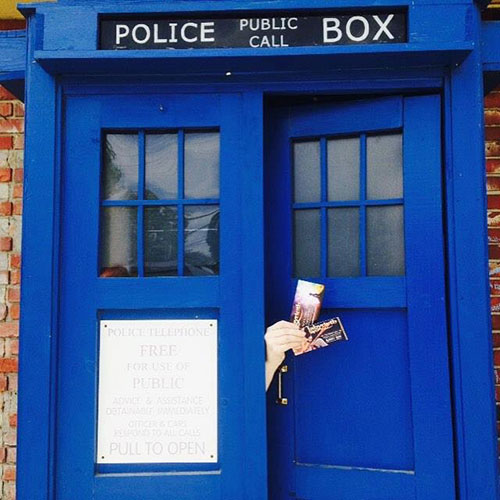 The owner Donna Ricci graciously shared her secrets to success with us.
WORSHIP THE FANDOM: First, can you share with us what Geeky Teas is all about?
GEEKY TEAS: Geeky Teas is a social hub centered around our nerd-centric blends of tea and love of table top gaming. Through our viewing parties, game events, classes and cupping room, we invite people to come get comfortable in our space and be at ease with their geek selves.
WORSHIP THE FANDOM: How did you come up with the idea for your business?
GEEKY TEAS: I love tea, and the look on someone's face when they go from "I'm more of a coffee person," to "Wowee I didn't realize tea was supposed to taste like that!" I love blending flavors together to make otherworldly combinations that people get into. No one else was really specializing in tea, and certainly not as a tea/game store/kitten rescue. It's the best of a cat cafe but with games and tasties.
WORSHIP THE FANDOM: In terms of the products you carry, what fandoms are sought after the most?
GEEKY TEAS: I think our Agent Coulson's Tahitian B.L.E.N.D. and our Supernatural African Dream Root Teas are the most popular, followed by our Penny Dreadful Absinthe tea and of course, the classic, Earl Grey, Hot.
WORSHIP THE FANDOM: How do you come up with the relationship between a fandom and a tea blend?
GEEKY TEAS: Sometimes it's quite obvious. We had to do a green tea to go along with Zelda's Green Potion. Other times we have to get creative like with our Slayer's Blood Orange tea for Buffy. She wasn't a tea drinker. If anything, Giles was a fan of a good English Breakfast blend, and maybe we'll do that too. We have a Rooibos Orange tea that we use for our Bonfire tea to pay tribute to The Walking Dead, because it brews up a deep red color. If anything, it helps you stop feeling like a zombie since it's packed with Vitamin C.
WORSHIP THE FANDOM: You hold a lot of events at the shop. Can you tell us a little about what goes on there?
GEEKY TEAS: Our events bring us together with locals and out-of-towners who come by for the TARDIS, but stay for the fun. We have made so many new friends through our Doctor Whosdays viewing nights, game evenings, art classes, writing workshops, and bad 80's movie nights. I will take particular delight in making people dress up for Desperately Seeking Susan night.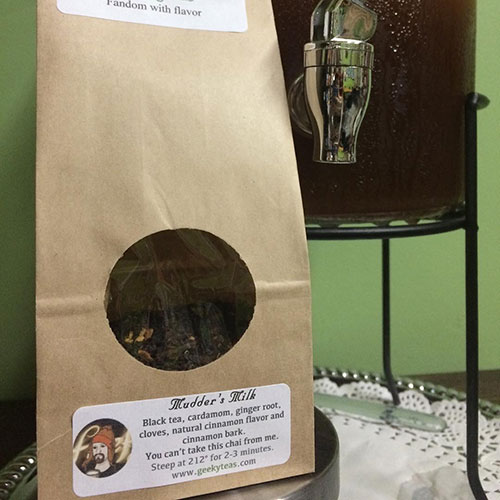 You can find more information, pictures, and community posts/reviews on Facebook, or visit their website. If you live in the Burbank/Los Angeles area or get the chance to visit, be sure to stop in.