2014 Year in Review: The 6 biggest fandoms in music
If you're looking for a list of the six biggest bands of 2014, find another site. Sure, U2 put out the most talked about album of 2014, but most of the chatter was about how to get rid of it. This list is about the artists who make the best music and the fans who would go to the end of the earth for them.
What is that magical combination of hummable songs, addictive personality, and on-stage charisma that is the difference between a popular artist and a mega-fandom? Sure, Meghan Trainor may have had one of the biggest songs in 2014 with All About that Bass, but her anti-feminist persona ensures she'll never have a Tumblr following.
We invite you to join us in celebrating our ranked list of the top music fandoms of 2014.
6. Lana Del Rey
Lana Del Rey's fans are an incredibly passionate love-you-or-hate-you crowd, and when it comes to Lana, they love her, deeply. Her particular blend of dreamy pop music paired with a vintage Betty Draper visuals has inspired some of the most beautiful, iconic fan art that finds a home on fandom blogs and aesthetic blogs alike. Although she has yet to achieve ultra pop diva fame, her fans treat her like a queen and worship her like a deity.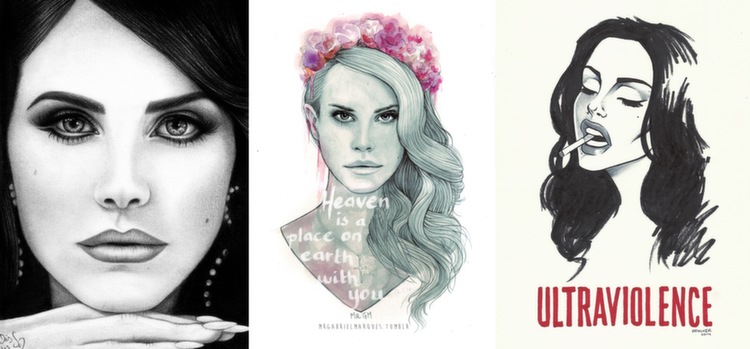 Image Sources (from left): Dendolephant, Mr. GM Studio, Kohlver
5. Taylor Swift
There was a lot for Swifties to get excited about in 2014 -- Taylor Swift had a big year. Of course, her massive pop album 1989 came out, which solidly crossed her over from country to pop star. The album succeeded in its difficult task of winning her new fans while maintaining her base. From Shake it Off to Blank Space to Out of the Woods, Taylor delivered hook after hook that celebrated her uniquely Tay life experience. And anyone doubting her authenticity can check out her brand new Tumblr blog where she posts wrenchingly genuine Instagram pictures of cats and interacts with Swifties in ways that would make even a non-fan squee. Tumblr bonus points: Now a strong, outspoken feminist, Tay has almost completely reversed her politics from her early days. Remember "she wears short shorts, I wear t-shirts?" The unabashe sexuality-embracing Blank Space wiped the old Taylor's slut-shaming from the map, making her the darling of every young feminist on the internet.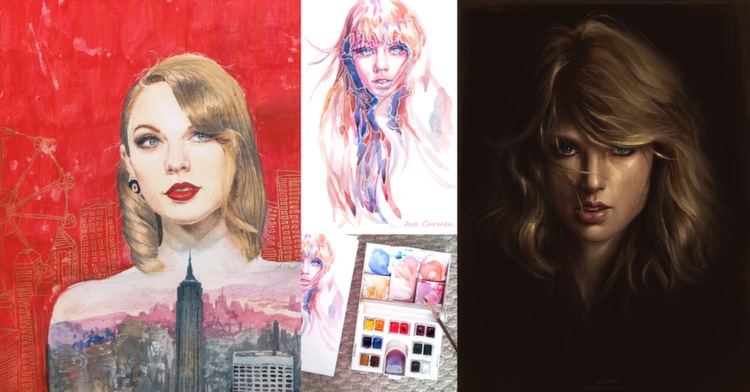 Image Sources (from left): JethroianArt, Ava Carmen, Art!*
4. Fall Out Boy
Fall Out Boy. Is. So. Important. Patrick, Pete, Andy, and Joe caught our attention with Sugar We're Going Down long ago and continued to put out such quality music until they broke our hearts and went on hiatus. Then, on a beautiful February morning, a thousand fangirl hearts squeed out because FALL OUT BOY CAME BACK. FOB fans proved to be one of the strongest fandoms out there and picked up exactly where they left off. They trust the boys even when the band changes their sound, as they did on their most recent album. Whether it's pushing their music to the top of the charts, to selling out arenas, to making some of the coolest fan art, FOB fans prove that believers NEVER die.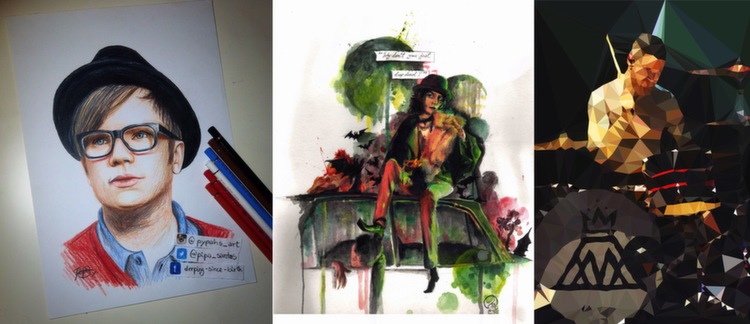 Image Sources (from left): Tough Cookie, This Is An Art Blog, Marquee of Stars
3. Beyoncé
It's hard to define the Beyoncé fandom because the Beyoncé fandom is essentially the human race. We are lucky enough to have walked the planet in the time of Beyoncé, and none of us can forget that. Bey established herself as pop music royalty when she released her top secret, incredibly successful album Beyoncé with absolutely no promotion and she continued to amaze us when she slayed her VMA performance with the word FEMINIST as her backdrop. Queen Bey has earned the support of pretty much everyone this year, rightfully so, and long may she reign.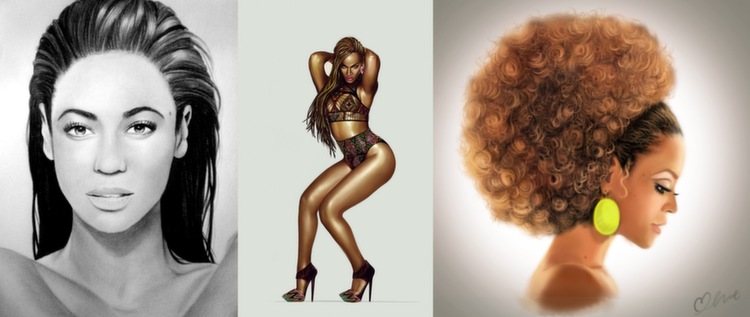 Image Sources (from left): IK90 on DeviantArt, ryan04ryan on DeviantArt, Missez Turner the Artist
2. One Direction
The One Direction fandom is a pretty powerful group of people. So powerful, this may be on the one fandom on the list your grandma is familiar with. They dominate the Twitter trending topics, they vote like crazy so the boys can take home countless awards, and they even have three of the top 20 most popular ships on Tumblr, because let's be honest, those boys really do love each other and the fandom eats it up. The fans are responsible for the success One Direction has seen in the past few years, sharing their videos, demanding they get radio play, and spending obscene amounts of money on concert tickets. Congrats on another successful year, Directoners, and may 2015 bring you all the cute Narry/Ziam/OT5 moments you deserve.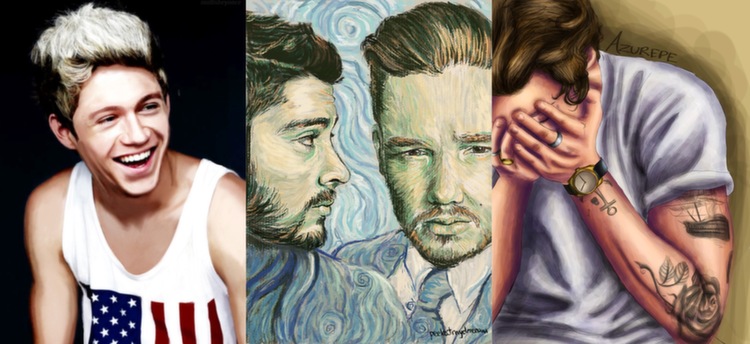 Image Sources (from left): to be loved, peek at my dreams, awkward is me
1. 5 Seconds of Summer
5SOS went from being those guys who make covers on YouTube to one of the biggest acts in the world HELLA QUICK. With the power of the Internet, the 5SOS fam made four Australian kids blow up and caused the rest of the world take notice. If your older brother can't tell the 5SOS boys apart from One Direction, there may be a reason for that. The two bands toured together for most of 2013 and 2014, unbeatable exposure that launched 5SOS to stardom. The band put out their first – yes their first – album this year then performed in front of millions on live television less than a year after they were essentially unknown. Stick around next year to see if 5 Seconds of Summer only has 5 Seconds of fame, but with fans like these, it looks like they'll last longer than one seaon.

Image Sources (from left): code name: the doctor, I hear a heart smash
Honorable Mentions
twenty one pilots
What genre even is twenty one pilots? The world may never know, but we do know that they have some hardcore fans. With their insanely catchy beats and tragically beautiful lyrics, Tyler and Josh have captured the hearts of so many angsty, emotional kids this year. The kind of strange, twisted nature of their music inspired some of the coolest fan art we've ever seen.
Image Source: Escape
Arctic Monkeys
Despite not releasing an album this year, Arctic Monkeys were still all over the internet. The iconic AM album cover sound wavelength turned into a meme as fans Artic Monkeyified all kinds of favorite lyrics. Arctic Monkeys are a stylish, unquestionably cool band with killer style which means they have one of the trendiest and artsiest fandoms on the Internet.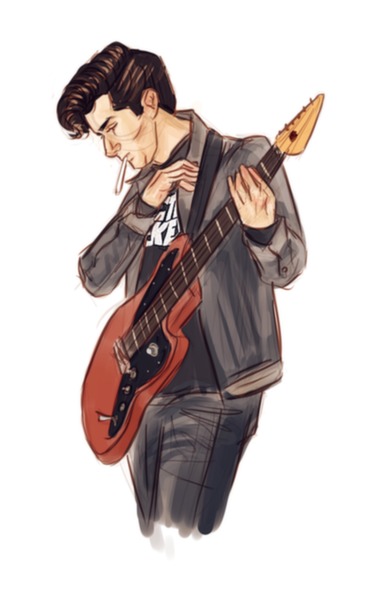 Image Source: Samber Gandy's Tumblr
My Chemical Romance
Hey MCR fandom. How are you? Are you feeling okay? Do you need a warm blanket and possibly a cup of tea? On behalf of everyone at WTFA, we are very sorry for your loss. That being said, you all are definitely one of the biggest fandoms of 2014 and deserve a spot on this list. Loyalty and dedication is pretty much defined by the MCR fandom who have been around for what feels like forever, and have stuck with the guys through thick and thin. An era has ended, so blast Teenagers through your headphones and put on ALL the eyeliner as you admire this awesome fan art.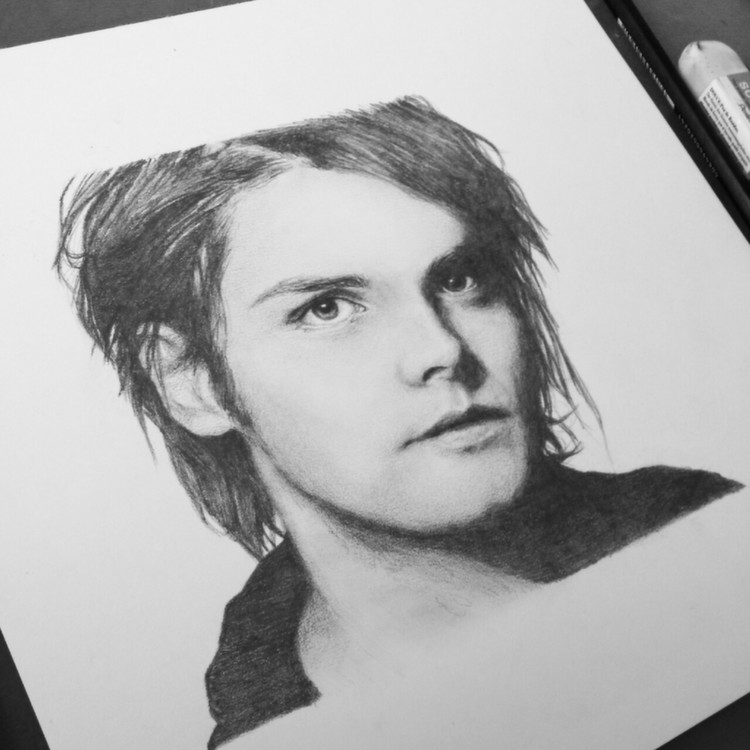 Image Source: jeanmarcommunism
Nicki Minaj
The Anaconda video happened this year, so naturally Nicki Minaj showed up on this list. Nicki's hilarious tweets, her give no f*cks attitude, her feminist asides, and her jaw-dropping videos bring out one of the rowdiest and funniest fandoms. Everything Nicki does inspires a new meme or inside joke that takes over Twitter and leaves us all in tears including all the "Drake's still sitting in that chair" tweets. Keep up the good work in 2015, Barbz.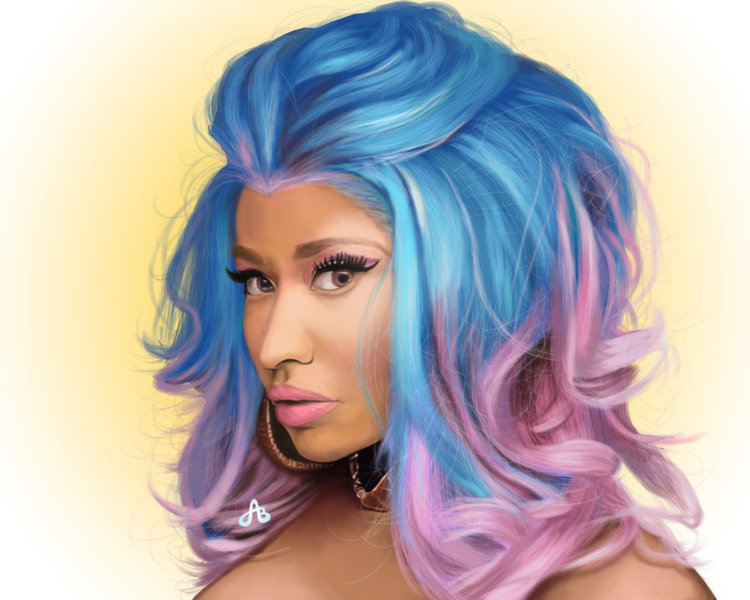 Image Source: dab7891 on DeviantArt
Have an issue with any of our rankings? Take it up with the writer on Twitter @shutupshelbyy.