The beginner's guide to K-Pop
Much of the west got its first taste of K-Pop (Korean Pop) when Psy's "Gangnam Style" became a viral sensation in 2012. However, "Gangnam Style" is only the tip of the iceberg. Behind it lies a phenomenon that's not only about music, but has been incorporated into everyday pop culture, style, and fandom. There isn't just one element that makes the genre so popular; it's the combination of the catchy beats, dynamic choreography, vibrant styles, and unique personas of the stars that keep fans wanting more.
Although K-Pop is immensely popular in Asia, it remains relatively unknown in the west. And for that, we've taken the liberty of crafting a list of top acts we think you should know about. These artists we're about to introduce have been largely responsible for popularizing and exporting Korean music/culture to the rest of the world. And it's this shared love of K-Pop that has prompted fans to connect all over the world and resulted in artwork, fanfics, musical covers and much, much more.
GIRLS' GENERATION: The Nation's Girl Group
Since their debut in 2007, Girls' Generation (AKA SNSD) have solidified their position as the Queens of K-Pop and are no doubt, the most desirable act in the industry today. They are South Korea's all-time best-selling female group, and they have the most watched music video of all time for a South Korean girl group on YouTube.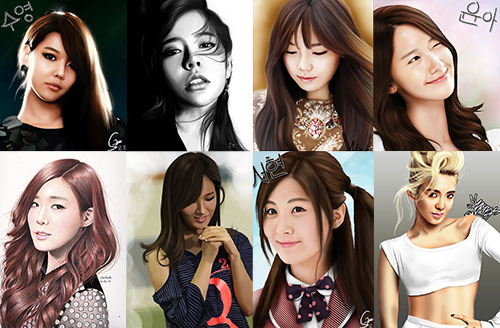 Sooyoung: Victorsaddler/Deviantart.com/ – Sunny: Bykeyva/Deviantart - Taeyeon: PanicinParadise/Deviantart - Yoona: Victorsaddler/Deviantart
Tiffany: Denitsed/Deviantart.com/ - Yuri: Taegyu/Deviantart.com/ - Seohyun: Victorsaddler/Deviantart - Hyoyeon: http://bykeyva.deviantart.com/
Members Sooyoung, Sunny, Taeyeon, Yoona, Tiffany, Yuri, Seohyun and Hyo Yeon (formerly Jessica) are loved by fans not only for their music, but also their stunning visuals and contagiously sweet personalities. Their performances are marked with immaculate precision and vocal harmony. Anyone who's seen them perform live can attest to the energy and charisma they bring to the stage. Their songs are fun, loud, damn addicting and usually accompanied with a cool and (sometimes) easy-to-follow choreography. "Gee", "Run Devil Run" and "Genie" are just a few of their awesome dance tracks.
Unfortunately, Girls' Generation got swept up in controversy late last year when news broke that member Jessica Jung was forced to leave the group. The news shook the K-Pop industry and the events that led to her departure remain a mystery. This scandal, along with EXO's scandal (mentioned below) hit SM Entertainment (their label), so hard, the company's stock value dropped by $65 Million USD. Despite a rocky end to the year, the ladies are currently working on their next album and are planning a comeback some time later this year.
BIG BANG: The Créme De La Créme
Front and center of the Hallyu (Korean) K-Pop wave is boy band Big Bang. They are, undeniably, one of the most influential and beloved acts in K-Pop right now. The group is comprised of five exceptionally talented members, G-Dragon, Taeyang, Seungri, TOP, and Daesung. Since entering YG Entertainment, they've undergone intensive training in the art of singing, rapping, dancing, producing, and composing. Their sound is heavily influenced by hip-hop and R&B, and over the years have incorporated ballads, EDM, and rock into their music.

Big Bang continues to distinguish themselves from other K-Pop artists in the industry thanks to their daring, innovative music that manages to transcend beyond South Korea. They have complete creative freedom over their music (unlike many other K-Pop acts), which has led to their ability to churn out hit after hit that satisfies the taste palettes of their devoted fans (check out Blue, Good Boy, Lies). Each song they release possesses a different vibe but retains the same level of sophistication and finesse fans have come to expect from them.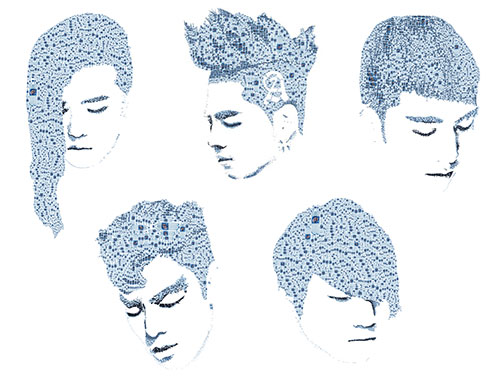 Image Source: KWONGDRAGON.TUMBLR.COM

G-DRAGON – TAEYANG – SEUNGRI
T.O.P – DAESUNG
Big Bang excels as both a group and as individual artists. Each member has his own individual flair, sound, and performance style – Taeyang, melodic and sultry; T.O.P, collected and in charge; G-Dragon, with his larger than life persona. Their creativity can also be seen in their style and fashion. G-Dragon in particular is renowned for experimenting with wild hairstyles, and dons some pretty outlandish fashion pieces, think Lady Gaga.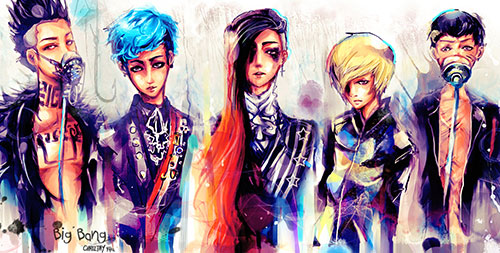 Image Source: ChriztayChuang/Deviantart
Although they've seen remarkable success as individual artists, fans miss seeing them produce music as a group and are dying for them to make a comeback (rumored sometime later this year). Until then, check out some of their past iconic hits.
2NE1: The H.B.I.Cs
2NE1 (21 or To Anyone), made up of CL, Dara, Bom and Minzy, were originally dubbed the female Big Bang, but they've transcended that title and differentiated themselves from their male counterparts thanks to their unique musical talents and eclectic style. Their sound is a mixture of pop, hip-hop, reggae, EDM, and R&B. They've collaborated with a few western artists including Will.I.Am, and most recently, CL with Diplo and Skrillex.
Image Source: MONMONSUTRISNA.STORENVY.COM
CL – DARA - BOM – MINZY

2NE1 generally strays away from popular bubble gum pop and anything cutesy, opting to rock flashy hairstyles, vivid makeup looks and unconventional fashion. As they mature as artists, their work has shifted towards a darker, edgier vibe, but they still maintain a stylish femininity. They continually infuse their music with powerful female-centric messages and they're strong advocates of young independent women. Check out their tracks "I Am the Best" and "Can't Nobody".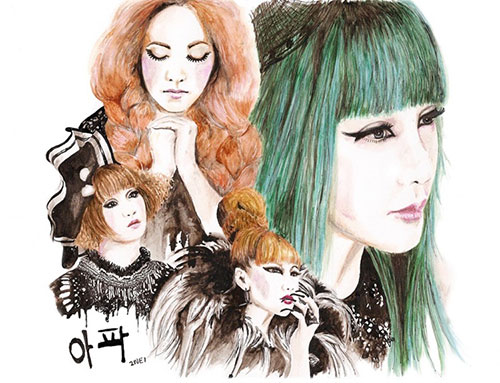 Image Source: Katie-Woodger/Deviantart
Like their label-mates Big Bang, 2NE1 isn't afraid to experiment with new genres and sounds, and when they do, they make it uniquely 2NE1 — fierce, powerful and chic.
EXO: Newly Minted K-Pop Royalty
There's no way to talk about K-Pop in 2015 without mentioning EXO. They debuted in 2012 as the first K-Pop group ever to simultaneously promote in both South Korea and China. They consist of ten (formerly 12) members who promote as three entities, EXO, EXO-K, and EXO-M. EXO-K is comprised of Korean members Suho, Chanyeol, Baekhyun, D.O., Sehun, and Kai, who can all speak fluent Korean and basic Chinese. EXO-M is comprised of Korean members Chen, Xiumin, (fluent in Korean & basic Chinese) and Chinese members, Tao, Lay, and formerly Kris and Luhan (fluent in Korean & Chinese).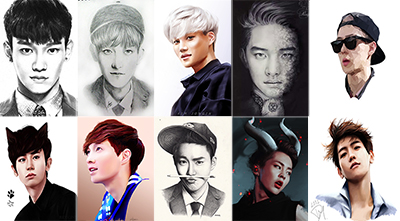 CHEN: Audrey829sj – TAO: Momonusuke/Tumblr – KAI: WingedFaw/Deviantart - D.O.: E11ie/deviantart – SEHUN
CHANYEOL: Iridescentjam/tumblr – LAY: Exopanda/Deviantart.com – SUHO: Denitsed/Deviantart – XIUMIN: Bubble-Min/Deviantart – BAEKHYUN: RollingAlien/Deviantart
All of their albums are recorded in both languages and during promotions, EXO-K promotes predominantly in Korea while EXO-M promotes predominantly in China. The group is immensely popular, holding different endorsement deals and press features in both countries. When they do perform as one group though, it's generally for big concerts, festivals, award shows, and special TV appearances.
While most groups only have to learn one formation/choreography, EXO's choreography is usually more complex because they have to learn three different versions. Though the choreography remains the same, the formations and member focus will differentiate depending on which version of the song (Korean or Chinese) is being sung, which country they're singing in, and whether or not they are performing with all members or as two separate groups.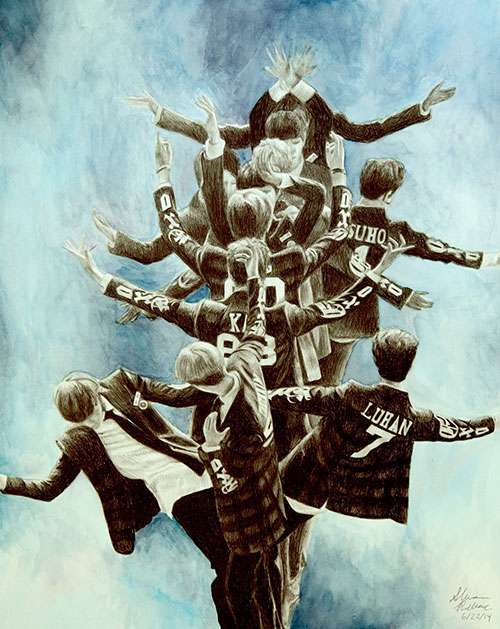 Image source: ShannonRudderArt/Deviantart

EXO made their debut in the K-Pop scene with sensual ballad, "What is Love" and pop-rock track, "MAMA". Both songs showcased their vocals and talent in live performances.
Their popularity rose with the promotion of "Wolf", but it was their following single, "Growl", that propelled them into international superstardom and officially established them as K-Pop royalty. They paired the pop-R&B-funk track with a flawlessly executed dance composition and an exquisitely choreographed music video. The three elements combined became the ultimate recipe for success. In 2013, they became the first group in ten years to sell over one million albums in South Korea.
Their success continued into 2014 when their track "Overdose" dropped. The EP garnered both sales and accolades, which resulted in them bringing home top honors at the year-end awards, including Best Male Group, Album of the Year, and Song of the Year.
However, in 2014, fans were heartbroken when two of the EXO-M members (Kris & Luhan) left the group within a few months of each other. The group was left in state of chaos as the debacle played out in the press. Fan wars flared, along with a myriad of he-said/she-said legal battles. The group is gearing up for their highly anticipated comeback this March and fans are anxious to see how the group will be segmented now with the remaining ten members.
Honorable Mentions:
There are too many acts to list out fully, but for a more in-depth understanding of K-Pop, check out these artists, too: