Fall Out Boy fan art for Centuries
Fall Out Boy's latest studio album, American Beauty/American Psycho, has just been released, and fans are already going... well, pretty/crazy.
And you know what else is both beautiful and psychotic? The amount of amazing fan art produced by 14 years of devoted fans. It would probably take Centuries (lol) to go through it all, so here are just a few of our faves to get you hooked...
Bromantic Doodles
After over a decade of band-edness, it's no wonder that the self-proclaimed best friendship between Pete and Patrick has been picked up on by fans and fan artists alike. Throw in some soft lines and a couple of deep/ambiguous/confusing/longing lyrics (which are written by Pete and Patrick themselves) and you've got yourself the makings of quite the BrOTP.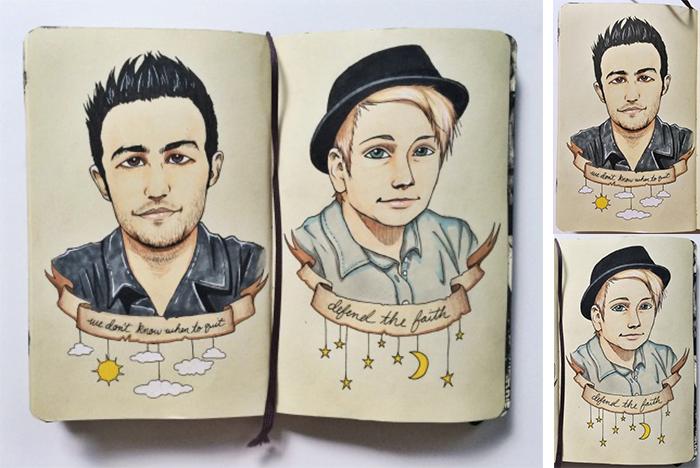 Image Source: iero-dogs/Tumblr
Starry Night & Ewe
This artist recreates FOB's 2007 album Infinity on High using oil paints,in a style that pays homage to the album title's inspiration, Vincent Van Gogh. The original quote goes, "Be clearly aware of the star and infinity on high. Then life seems almost enchanted after all." Good ol' Vinny would probably be proud of the amazing album and art he inspired.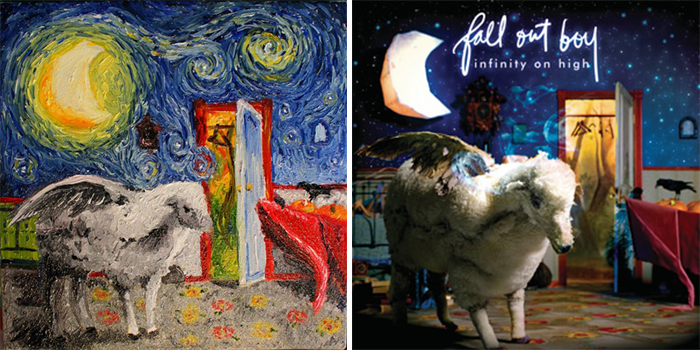 Image Source: sky sunset in my veins/Tumblr
Boy (Re)Band
As most fans know, Fall Out Boy took a hiatus (see: broke up) in 2010, much to the dismay of a super devoted fan base. The group reunited in 2013, so it's nice to see the whole gang immortalized with this super cute sketch by Larachelle.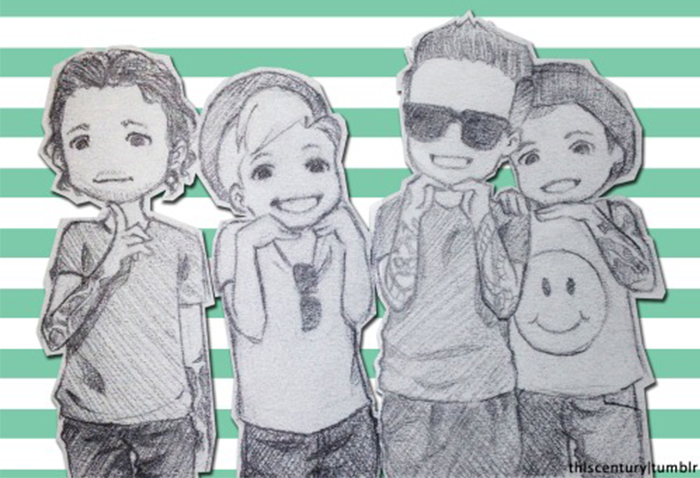 Image Source: one-to-larachelle/Tumblr
Stunning Young Blood
FOB returned from their hiatus with a bang with their album Save Rock and Roll and super-cinematic music video project, The Young Blood Chronicles. This project inspired some dark and amazing art, like this '50s horror movie-inspired poster by Melbourne artist Cara Tune—it's even featured on The Young Blood Chronicles' Wikipedia page.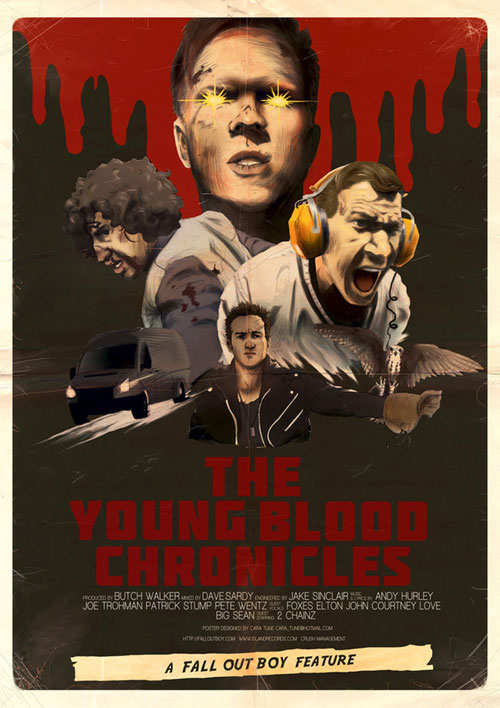 Image Source: Seraph5/DeviantArt
Yes, Way More
In order to fully appreciate these pieces, you'll have to check out FOB's video for "Sugar, We're Goin Down."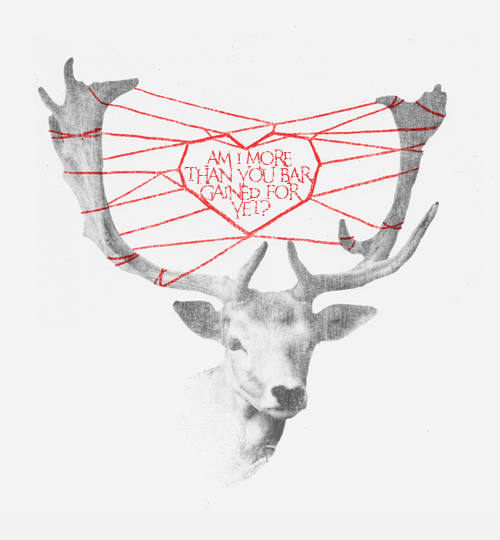 Image Source: Soulplank/Tumblr
Gigantour
After reuniting in 2013, Fall Out Boy and fellow pop-punk group Paramore joined forces on tour. This was the first time these cohort bands ever toured together—a monumental occasion, aptly named the Monumentour. Artist Julie Pond captures this historic union beautifully in this digital art piece featuring Patrick and Paramore's lead vocalist, Hayley Williams.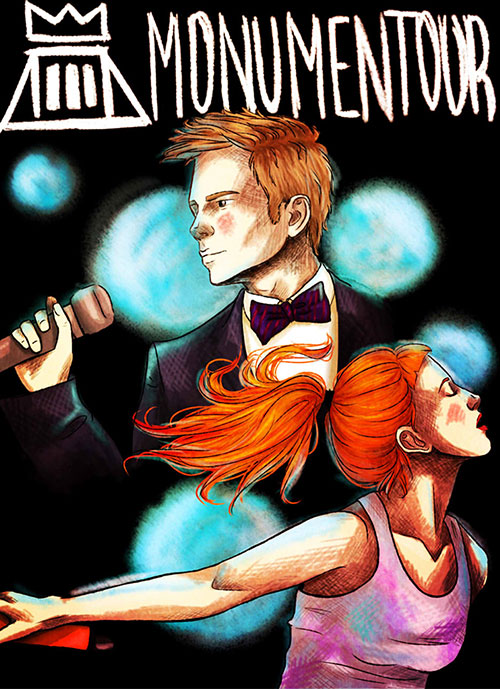 Image Source: Julie-pond/Deviant Art
Beat Boy
While Pete and Patrick tend to get all the heat, drummer Andy Hurley has kept the beat in our hearts since joining FOB in 2003.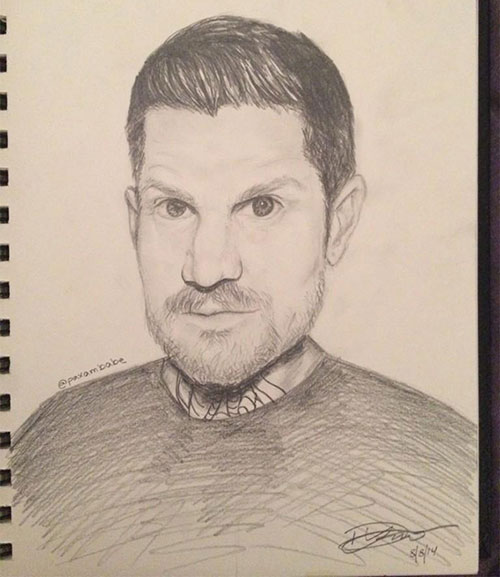 Image Source: Paxambabe/Tumblr
PokéBoy?
The crossover fan base between Fall Out Boy and Pokémon may seem confusing at first, but those who grew up with Pokémon were the right age for Fall Out Boy at their [first] peak when they went through their middle school emo phase. It really was only a matter of time before a fan artist remixed the two fandoms.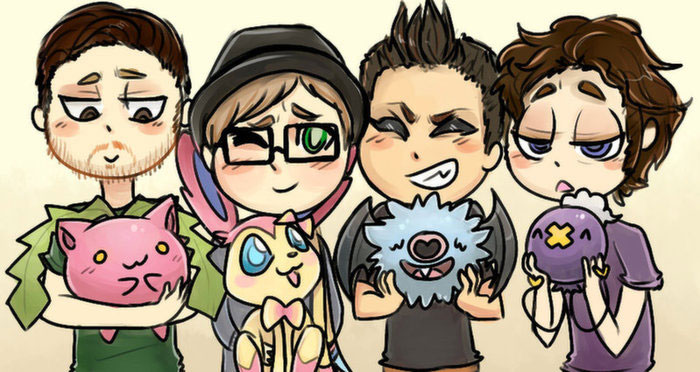 Image Source: lost in a dark world/ Tumblr