This couple is blowing minds with their matching cosplays
Sheila and Sylar (also known as "Aicosu"), are a talented young cosplay team located in Los Angeles. Their attention to detail and beautiful craftsmanship has earned them a pretty serious social media following.
The couple has been cosplaying since 2007 and 2009, respectively. Since then, they've teamed up and focus on making complementary cosplays. They have perfected more characters than you can imagine.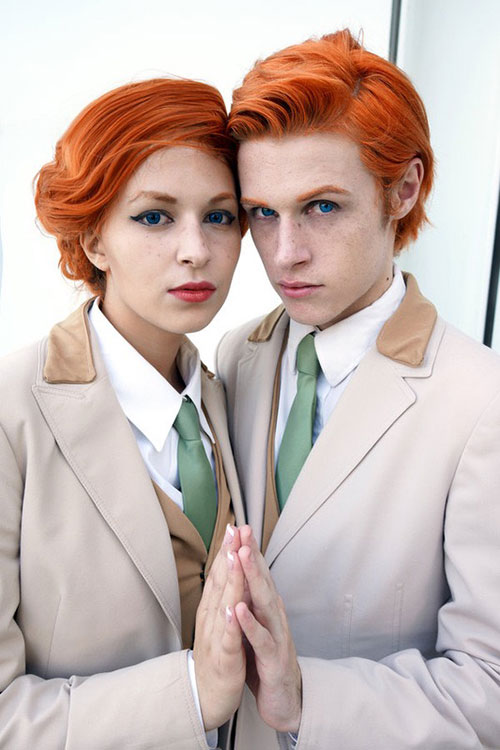 Sylar is a voice-over actor, and Sheila works as a wardrobe assistant. They've both utilized cosplay to practice their crafts, and use channels such as Tumblr and YouTube to share their wealth of experience. (Also check out their previous YouTube channel for inspiration.)
They chatted with us about their favorite cosplays and more:
WORSHIP THE FANDOM: How has your growing popularity impacted your convention experiences and cosplay in general?
AICOSU: For the most part its simply made us more busy! We spend less time wandering around the convention hall and more time at our booth or hosting panels and events. Not to mention, we make a lot more friends! It's been a positive change, and one we are eternally grateful because it's opened a lot of opportunities to us. We only hope to do what we can to give back our knowledge and experience to any who support us.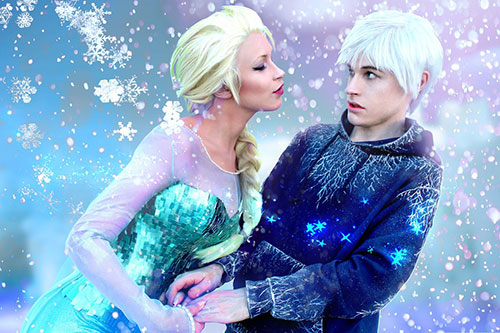 Elsa and Jack Frost cosplay from Frozen and Rise of the Guardians.
WTFD: We love your YouTube channel, but there is no way you're telling us everything you know. Have you ever considered doing a cosplay how-to themed YouTube channel full time?
AICOSU: It's something we've talked about several times. We want to do more videos, especially livestreamed workshops, we just aren't sure the best way to go about making the videos on a technical level. However, we are hoping to bring something to Twitch.tv very soon. We'd love to do all kinds of craft projects for fellow cosplayers.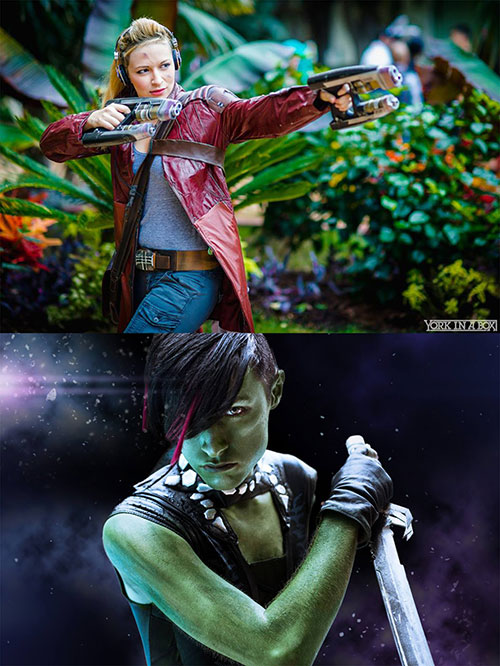 Sheila as a female!Star-Lord, and Sylar as a male!Gamora from Guardians of the Galaxy.
WTFD: What are the professional opportunities in cosplaying? Sheila, we know you're a wardrobe assistant; how has cosplay positively impacted you in this field?
AICOSU: If we had never cosplayed we wouldn't be where we are now. It's changed both of our career paths and given us amazing opportunities. More so than our college, cosplay has given us connections with gaming companies, costume resources, and legitimate resume and portfolio work that has landed us several jobs.
Even if you are not using cosplay as an income by making commissions or selling prints, we believe that it is a great area to expand your skills in costuming for film or wardrobe for television. Sylar too, as an aspiring voice actor, has made a lot of connections with voice-over artists and directors simply because he's cosplayed a character they created.
Recently we've began running a Cosplay Careers panel where we talk about the amazing use Cosplay has on the job realm, and how you can use it to your advantage. After all, it's an amazing thing cosplayers have to do. And we wear many hats. Acting, modeling, sewing, prop making, painting, photography, public speaking -- they are all things a cosplayer has to learn.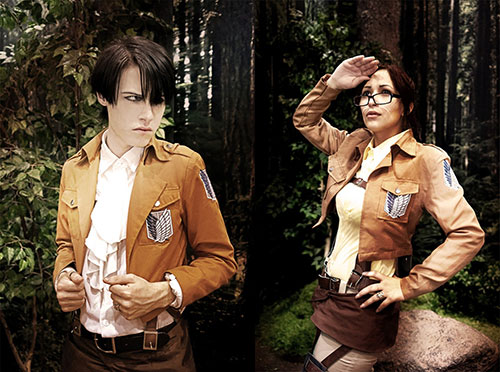 Sylar as Levi and Sheila as Hanji Zoe from Attack on Titan.
If you have your own questions for the duo, you can ask on Sheila's tumblr. She has already answered loads of cosplay related questions, which you can browse through on her ask tag.
Images Courtesy http://www.aicosu.com.