The ten rules every new or nervous cosplayer should know
If you've never cosplayed before, getting over the initial fear of humiliation can be an enormous hurdle. Even at a convention like WonderCon, where it seems the cosplayers outnumber civilians at times, it can take a lot of self-confidence to get the courage to step out of your car in costume.
There are so many ways to cosplay, and so many levels of commitment. But for those who are considering their first cosplay outing, keep these ten rules in mind.
1. Recruit backup.
Cosplay is more fun when you do it with your friends! Not in the same fandom? No problem. There are packs of cross-fandom pals wandering the floor of every con. There's no need to coordinate if you can't decide.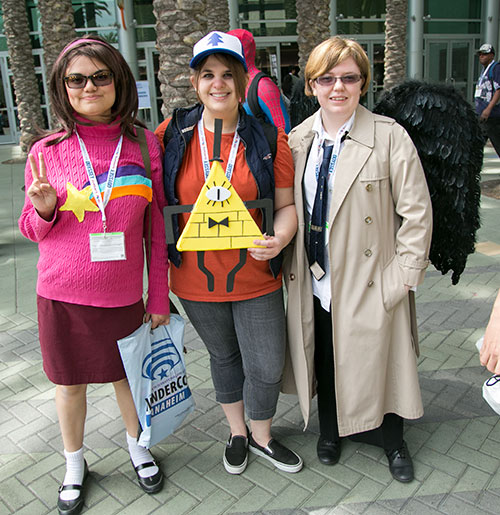 2. Coordinating can be fun too.
If you and your friends share a fandom, you may find it easier to pick a cosplay theme than where to eat lunch. Don't feel like you need to stick to canon. These awesome cosplayers from WonderCon decided to remix the typical princess look and cosplay Punk Rock Disney.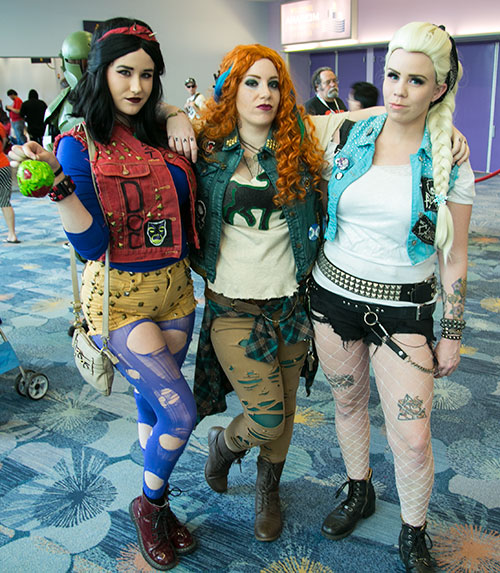 (Cosplayers: canoncosplay, deeannaaab, and uneekchic)
3. Dig deep.
Maybe you're worried everyone and their sister will be cosplaying Deadpool this year (you're right). There's nothing wrong with that, but you may find you get more excited about an old fandom you forgot still tugs at your heartstrings.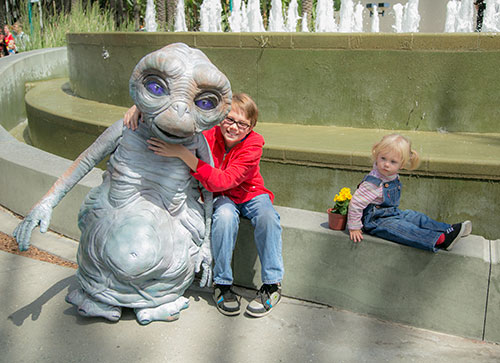 4. Then again, there's nothing wrong with being on trend.
These cosplayers are pulling an old fandom out and dusting it off — just like Fox is doing with its X-Files reboot this year.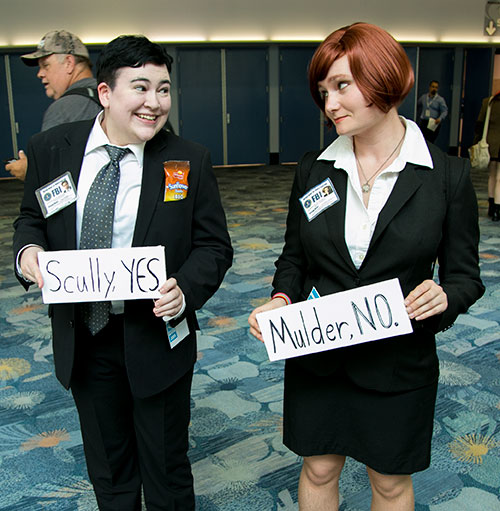 5. Innovate.
This intrepid Star Wars fan designed a cosplay for BB-8, a new droid we've only seen once in the trailer for the upcoming Star Wars movie. It took some invention, but he devised a revolving cosplay that's alllmost as adorable as the original.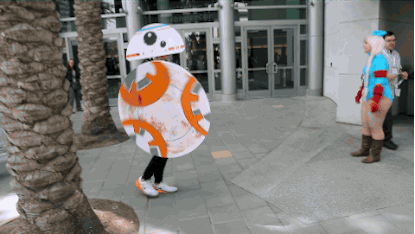 (Cosplayer: thedogeman)
6. Don't be afraid to crossplay.
Ladies, it's no secret that there are more male characters in fandom, and often they're more interesting, complex, and live longer than the female characters. If you want to cosplay Han Solo, Sherlock, or a Hobbit, go nuts. And dudes, feel free to slip into a Korra cosplay if you'd like. It's all good.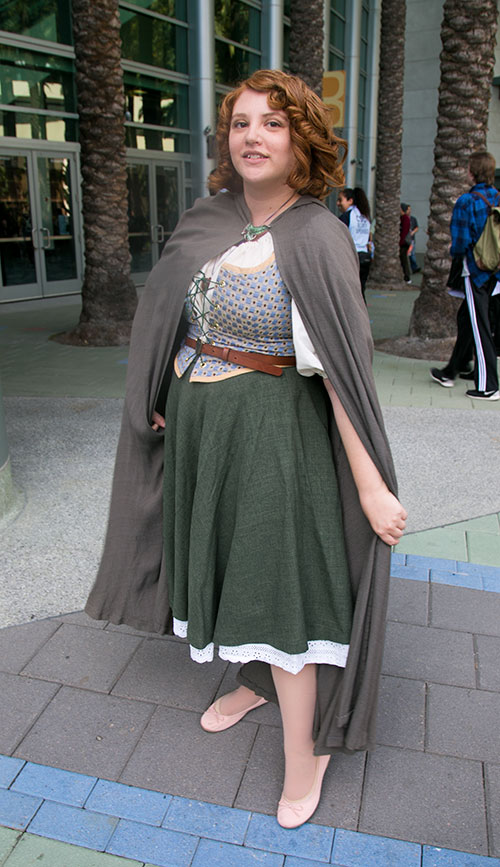 7. Make sure you know your Castiels…
8. From your Constantines.
(Hint: it's in the tie.)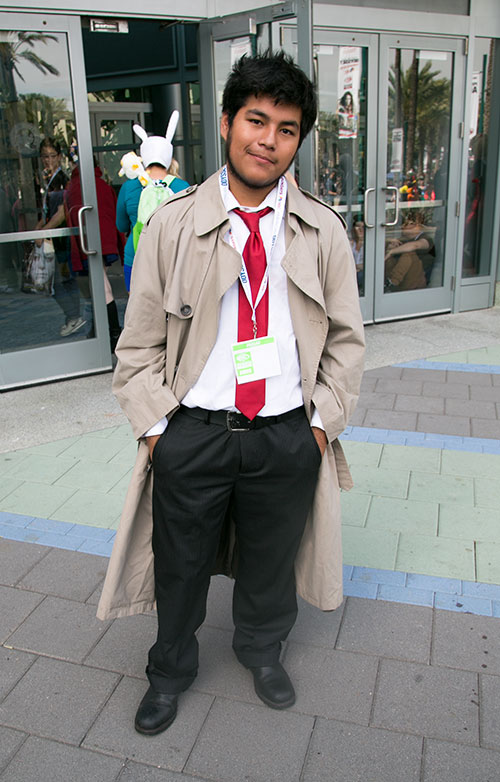 9. Get the whole family involved.
If your mom insists on coming along as a chaperone, it's your prerogative to insist she cosplay Linda Belcher with you and your sister.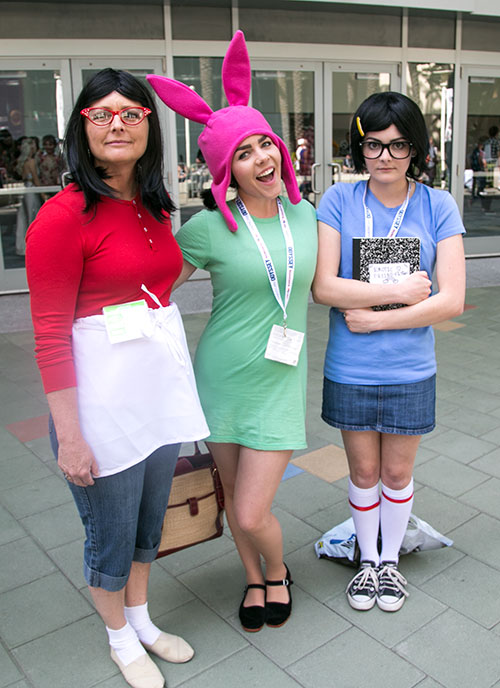 10. Most importantly, remember to take breaks.
Conventions are big, fun, outrageous, and often overwhelming. It's a big three days, and you don't want to burn out too quickly, so make sure to pack granola bars, stay hydrated, and take breaks, like these Over the Garden Wall cosplayers.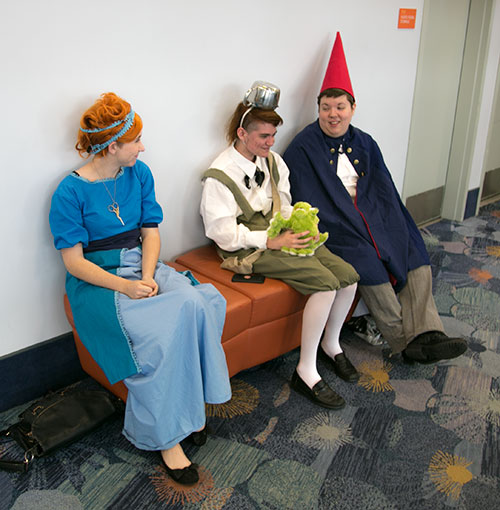 If you saw a great cosplay at WonderCon, tweet me a pic @brittashipsit.
All images from Worship the Fandom.