How Grace Helbig made the jump from YouTube to boob tube
Grace Helbig feels like a close friend even though I've never met her. Since she started vlogging back in 2007, Grace has become a staple in my daily internet consumption… well, me and 2 million other people. Now your mom might find out about her, too, because this YouTube darling is headed to television.
How did Helbig rise to the top? Today, we celebrate Grace's success through the fan artists who love her the most.
I WANT TO MAKE VIDEOS THAT I'D WANT TO WATCH
Every now and then, I find myself watching famous YouTubers thinking "I can totally do this." But after my own failed attempts at vlogging, I've discovered that making these entertaining four minute videos is a lot more work than it looks. For Helbig, her formula is seemingly simple. She makes videos that she would want to watch. They're creative, fun, and interactive, but these quirky videos take more time and production quality than any of us could ever imagine.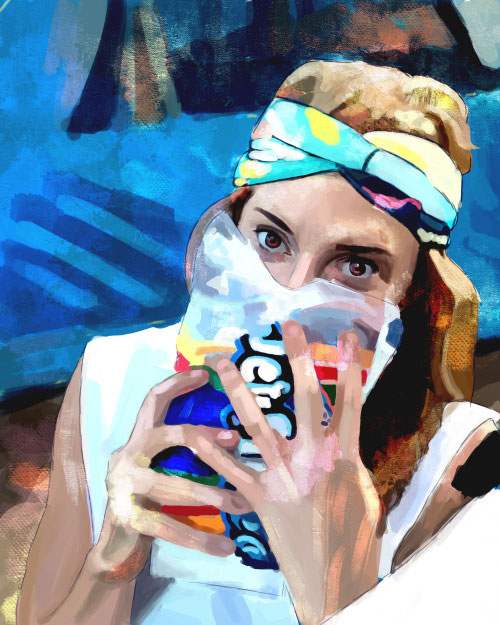 Image Source: oakktree.tumblr.com
Helbig's videos feel like you're hanging out with a close friend, giving you a daily inside look into her life. When she laughs, we laugh. It's almost like watching a constant blooper reel. In a good way.
Image Source: doodlefrood.tumblr.com
THE HOLY TRINITY: HOW COLLABORATION BUILT THE HELBIG EMPIRE
If you know Grace Helbig you know her partners in crime, Mamrie Hart and Hannah Hart. Dubbed "YouTube's Holy Trinity," these ladies are everything you wish your girlfriends would be — funny, sarcastic, and avid drinkers. Not only are Hannah and Mamrie popular in their own right, they've helped expand the Helbig Empire.
Image Source: bens-art-blog.tumblr.com
In 2014, the Holy Trinity made the film Camp Takota. This collaboration showcased Helbig's ability carry a video longer than 4 minutes. This friendship has given birth to some of the internet's best ships — "Mace," "Hartbig," and "Grannah."
Image Source: fat-cat-is-fat-cat.tumblr.com
The trailer for The Grace Helbig Show implies more appearances by the other members of "Hartbig" and "Mace."
A FAN OF FANS
Between her highly successful YouTube channel and her New York Times' bestseller, Grace Helbig has maintained her connection with her fans by celebrating the viewers that have established her career. We love Grace because she loves us.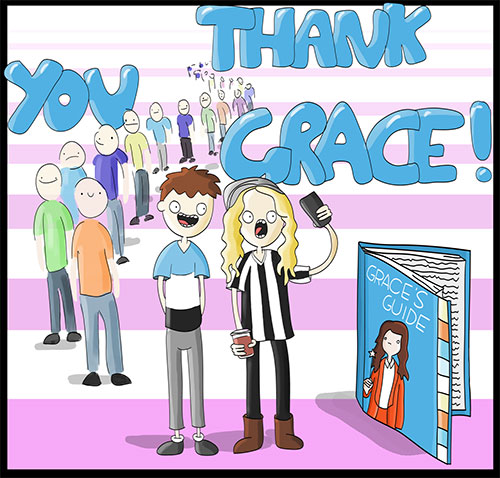 Image Source: doodlefrood.tumblr.com
If the Helbig fandom has anything to say about it, Grace Helbig's career will continue to grow to infinity and beyond. Is it just me or would a Grace Helbig fashion line at Target be amazing?
Remember to set your DVRs for April 3rd for the premiere of The Grace Helbig Show.
If you have your own Grace Helbig fan art, we'd love to see it. Upload it to our gallery and then tweet our editor @brittashipsit