Cara Delevingne is coming out and coming into herself
Cara Delevingne has never played by the rules, and that's why we love her. The British supermodel-turned-actress has captured our hearts and social media feeds with her laid-back personality (a certain 'Bacon' tattoo on the sole of her left foot comes to mind), killer sense of humor, and of course—the brows.
With 11.8 million Instagram followers, Cara is certainly not your girl next door, but she might as well be. Sure, you might have just seen her strutting the catwalk alongside the likes of Kendall Jenner and Karlie Kloss at Taylor Swift's show in Hyde Park last weekend. But while her powerful gaggle of celebrity girlfriends paired their sleek black-and-white outfits with heels and accessories, Cara burst forth in sneakers and leggings with her hair in a ponytail, enthusiastically waving a giant British flag, and not so much 'strutting' as running in flamboyant circles.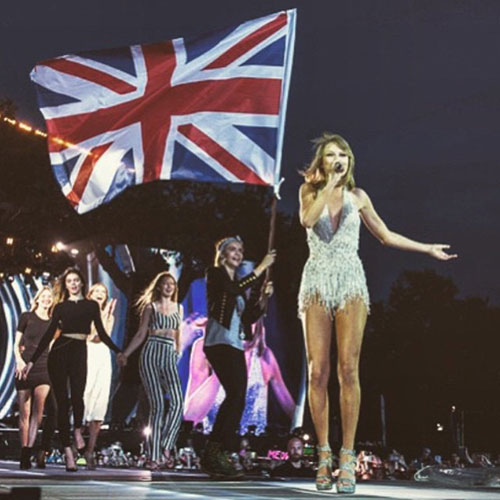 Source: instagram.com/caradelevingne
In addition to her down-to-earth public persona, at only 22 years old, she's making some bold career moves. Cara has eased away from modeling to prioritize acting, which she reportedly has always found much more fulfilling than fashion, recently saying, "I don't want to be that cliche: model-slash-actress." In a recent story by the Wall Street Journal, Delevingne explains, "I ended up feeling a bit empty. Fashion is what's on the outside, and that's it. There's no searching, it's just creating pretty things." Her first starring role is Margo Roth Spiegelman in the upcoming adaptation of John Green's Paper Towns is a decent start, to say the least. (FYI: Paper Towns opens July 24th.)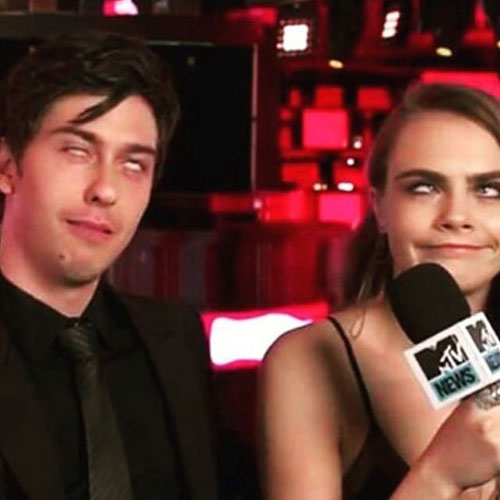 Source: instagram.com/caradelevingne
And of course, with the recent Supreme Court decision in effect (finally), it's only fitting to mention Cara's openness regarding her sexuality. She eschews labels, but is reportedly dating Annie Clark, known as the popular pop artist St. Vincent. Talk about a power couple.
Some appropriate backlash has surfaced regarding her recent cover story in this month's issue of Vogue, as the story author Rob Haskell almost blatantly dismisses Cara's bisexuality as just a 'phase.'
"Cara says she felt confused by her sexuality as a child, and the possibility of being gay frightened her. 'It took me a long time to accept the idea, until I first fell in love with a girl at 20 and recognized that I had to accept it,' she explains."
After continuing to further explain her attraction to both women and men, Haskell adds:
"Her parents seem to think girls are just a phase for Cara, and they may be correct… When I suggest to Cara that to trust a man, she might have to revise an old and stubborn idea of hers—that women are perennially troubled and therefore only women will accept her—her smile says she concedes the point."
The article received enough negative attention to inspire LGBTQ activist Julie Rodri-guez to create a petition on care2.org—which has already received more than 12,500 signatures—addressing the magazine's failure to "combat negative stereotypes, not reinforce them." We don't need any more of these stereotypes surrounding the LGBTQ community, especially in the media. It's time to celebrate, and appreciate the unapologetic candor and self acceptance of our beloved Miss Delevingne.
On her occasional days off, you can catch Cara playing Call of Duty (username: Caradele, for anyone who might be looking), eating pizza and bacon, and of course, making weird faces. To catch up on Cara's entertaining antics, follow her on Twitter and Instagram at @caradelevingne and Tumblr at iamcaradelevingne.tumblr.com. Happy stalking!